After a hearty breakfast, a quick peek into the playing room revealed our two controllers awaiting the day's action: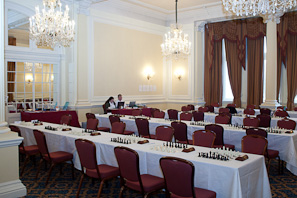 I had to photograph one of the chandeliers, in the hope that this would prevent my being distracted by them in play :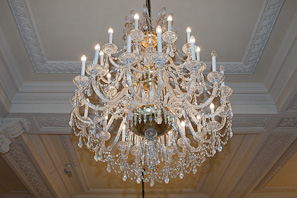 Our opponents today, the Manchester Manticores, had yet to gain any match points, but, as we all know, that did not mean that there was any room for complacency. After all, Mick Norris, their board one, told me that they chose the name because it was a mythical beast – and I must admit my ignorance here, as I had never heard of a manticore before. Obviously a learned lot.
In the event, everything went our way, and we ran out 5.5 – 0.5 winners, John Gorman conceding the only draw, nice man that he is.
With 9 points, we now lie third in the 4NCL Northern League, behind leaders Bradford A and Atticus. We meet the latter next round, which will give us the opportunity to improve our standing once again. An extremely important result of this weekend is that we have overtaken Cheddleton, who are now a full point behind us!
A very pleasant weekend, for which we should thank the Majestic Hotel, our controllers, Alex and Lara, and Caissa's good fortune for providing us with the desired results.