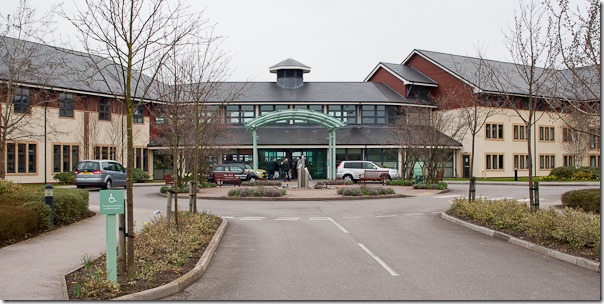 This was our second visit to Wychwood Park, near Crewe, and we were hoping for good results on our home patch. There was even some discussion of whether we should take promotion to Division 2 if we achieved a promotion slot after the final weekend at Hinckley Island.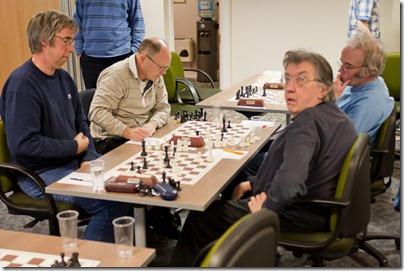 We took on Atticus, the only team that we had not yet met. They were lying in second place, and we were hoping to supplant them, but it was not to be. I succumbed to a blunder as time trouble loomed, and while Mike escaped with a draw which had seemed impossible to achieve earlier, Bob's endgame proved insufficient for a win.
1 John Carleton 2307 1-0 Patrick Bennett 2060
2 Peter Ackley 2024 ½-½ John Turner 2071
3 Dave Robertson 1885 ½-½ Robert Clark 2035
4 Dave Stuttard 1920 ½-½ Mike Hancock 2098
5 Mike Driscoll 1914 0-1 Chris Doran 2020
6 Andy Mort 1914 1-0 Dave Bennion 2015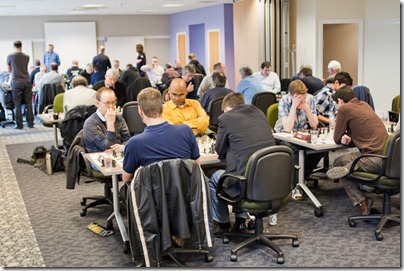 Sunday was the jamboree, with us all playing opponents from different teams. The result was again no match points for us, with Bob Clark our only winner – no games, I'll just stick to photographs.
1. Aigburth – M Gruca                        1-0     J Blackburn
2. P Bennett                                         0-1     Cheddleton 2 – G Acey
3. BDCA Knights B – A Wainwright  1/2-1/2    J Turner
4. B Clark                                             1-0  BDCA Knights A – L Brijmohun
5. Jorvik – A Nezis                              1-0  M Hancock
6.  C Doran                                           1/2 – 1/2  Manchester Manticores – A Beresford
Us 2 Them 4
Well, no need to agonise over whether we would take promotion for next season! However, we look forward to a festival of chess in the final weekend at Hinckley Island for rounds 9 to 11, where we shall be rubbing shoulders with the Great & the Good – in Divisions 1 and 2 – and competing with the softy southerners in the other Division 3.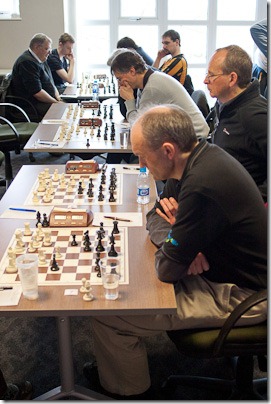 In the foreground, Mick Norris of Manchester Manticores – highly delighted that his team picked up its first match points in Round 7.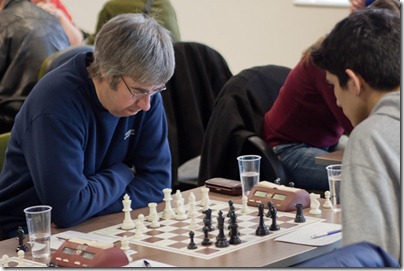 Bob Clark on his way to our only win in Round 8.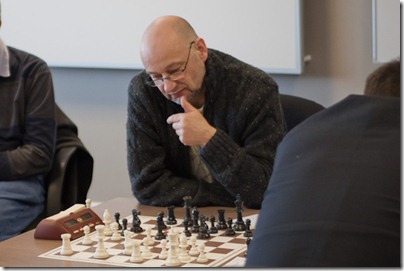 My opponent in the jamboree, an old adversary – Gerald Acey.
Top boards in the jamboree, Round 8.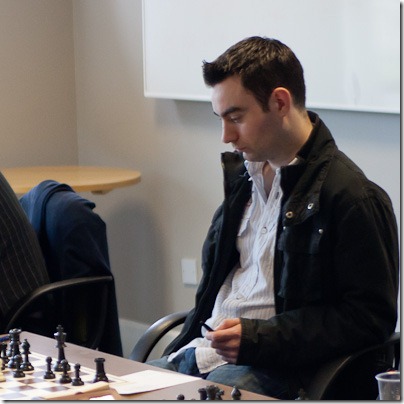 Jonathan Blackburn.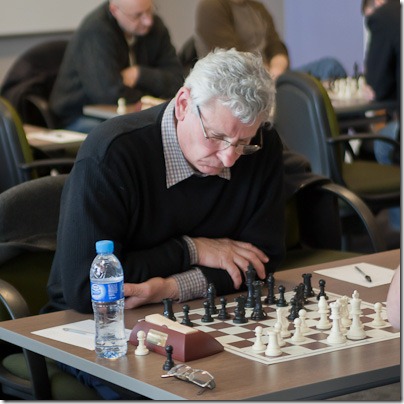 John Turner.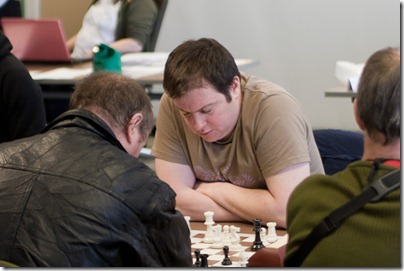 Chris Doran.