It's the crucial match in the Stoke league, Holmes Chapel v Stafford. Stafford are a point ahead of us, but we have a game in hand, so a drawn match would leave us an opportunity to win the championship by beating Cheddleton in our remaining fixture.
Stafford turn up with their full complement of big guns, all tooled up, aggressive chess capability barely concealed under bulging clothing. They eschewed dark glasses and hats pulled down over their eyes.
My opponent is Laurence Cooper. Laurence Cooper! He hasn't played for them all season, and now they dig him out to come and squash poor little me. However, he doesn't have my Modern defence sorted out, and emerges from the opening the worse for wear.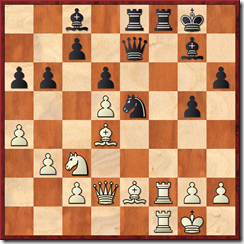 After 22. … Rxf2 23. Rxf2 Ng4 24. Rf1 Bxd4+ 25. Qxd4 Qe3+ 26. Qxe3 Nxe3 27. Rc1
I had a very comfortable position, which I managed to mishandle and leave Loz with a dangerous outside passed pawn: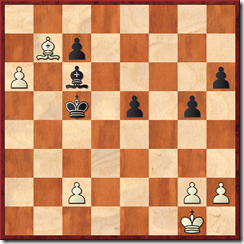 Here he played 39. Kf2, missing a pretty win which I leave you to find. Matters progressed to the final position, which was as follows, with Black to move: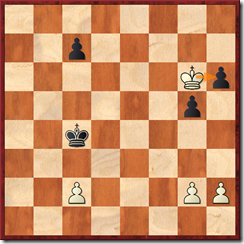 So I counted how many moves it would take for Loz to queen his h pawn, and it came to 7. I did note the fact that his king would be on my pawn's queening square. I then counted how many moves it would take to queen my c pawn, and it came to 8. With increasing despondency, I counted squares several more times before resigning. Perhaps it was because I was Black that my befuddled brain didn't catch on that it was my move first, so I would queen with check.
So we lose the match 2.5 – 3.5, and Stafford win the league. Congratulations! Humph.
So last night it's our last match in the Stockport League (apart from the Charnley Cup final) and our visitors are Marple. I get to the Vic club and find that Marple, eager for the fray, are here already, and among them is – Loz Cooper! And this is the first time he has played for them as well! I did agree, some time ago, to be his friend on Facebook, but disappointed by my negligible contribution to that organisation's cyber space, he is obviously determined to get to know me better!
This time, he has obviously done some homework on how to deal with the Modern defence, because he comes up with a line which is far more testing than in our previous game. This is the position after White's 15th move :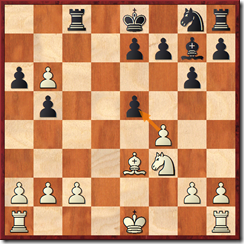 In my reference database on Chessbase, there are four games with this position, with GMs on both sides of the argument. Hillarp Persson, Nakamura and Almeida Quintana played 15 … Nf6, gaining 2 out of 3 between them. Bacrot and I played 15 … e4.
Bacrot lost and so should I, but for the intervention of Caissa on my behalf. In this position, I had played 18 … Ng4 in desperation :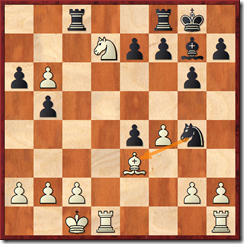 Moving his bishop almost anywhere wins, but Caissa's distracting hand on his shoulder induced Loz to take my rook with 19 Nxf8. Gleefully, I took his bishop, thinking for a moment that I might even win this, but after 20 Nd7, there was nothing else for me but the draw by perpetual :
20 … Rxc2+ 21 Kb1 Rxb2+ 22Kc1 Rc2+ 0.5 – 0.5
We beat Marple, but then we had won the Stockport league with two matches in hand. Easy …