So we're off to the wild badlands of the northeast, at Redworth Hall near Darlington, and we are involved in a triangular match. What is a triangular match, I hear you say? It happens when there is an odd number of teams, and you don't want any team to have a bye. It's a match against two other teams, and on the Saturday you play three boards against one team and three boards against the other. On the Sunday, you play three boards against the other team and three boards against the one team, so at the end of the weekend, you have a result against both of the opposition.
So I look up triangular matches on the 4NCL website, where it gives a table showing the pairings for the weekend, and informs captains that they should not move players who have played on an even board on Saturday to an odd board on Sunday and vice versa. No problem, I think, and enter our board order with a swap between boards 1 and 3 for the two matches ( we like to keep the opposition guessing as to which of us they will be playing) and send out the email to inform our team.
Thursday evening, I get a plaintive email from Chris, telling me that he has looked at the triangular match fixture table, and he seems to have Black for both matches. Now, I have a good look at the fixture table, and see that Chris is right. Being of a sunny disposition, believing that the world is a basically simple and pleasant place where problems are generally caused by man's perversity, I fire off an email, complaining about the mistake in the fixtures table. After second, third and fourth thoughts about the table, I realise that you can swap boards 2 and 3, or 4 and 5, and everybody has one Black and one White for the weekend, and I send a second email to 4NCL acknowledging the complexity of triangular matches. Little did I know that I had understood less than half of this complexity!
On Friday evening, I have a look at the ECF Forum, and find that there is a long thread discussing this complexity, most of which I didn't understand, and didn't have the time to get my head around.
Anyway, off we go to Darlington, and settle down for Round 1 in a rather nicer room than we usually have at Redworth Hall: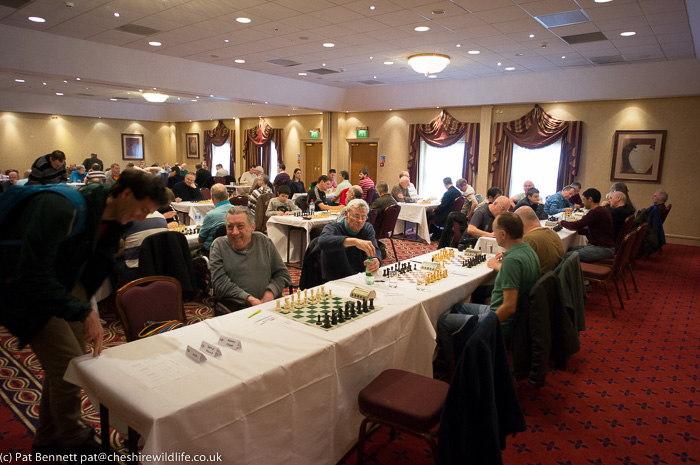 We had two losses, one win (by John, a long tussle with David Robertson of Atticus B), and three draws, so we were reasonably cheerful at the pub Saturday evening. As captain, I felt that I should be saying motivational things and giving useful advice, so I simply pointed out that all we had to do on the morrow was to win all our games. We always enjoy our meal of a Saturday evening, with much hilarity in evidence.
On Sunday morning, while relaxing in my room after breakfast, I get an anxious phone call from Chris – "You'd better come down – I'm playing the same bloke as yesterday, and Atticus are complaining!" Triangular matches – arghh! I go down, change our board order to the same as yesterday, and all is well.
And the chess went well as well – Charles, Malcolm and Chris all took note of my exhortation last night and won, giving us victory by 4 -2. However, it was just too much to work out what this meant for both matches, and it wasn't until later that evening at home that I looked up the results on the 4NCL website to find that the distribution of results was ideal for us, and we had beaten Spirit of Atticus B and drawn with Jorvik. This means a tough second weekend in January, as we will be up against the big boys in the top half af the table.
We welcomed a new member of our team, BenScattergood, this weekend: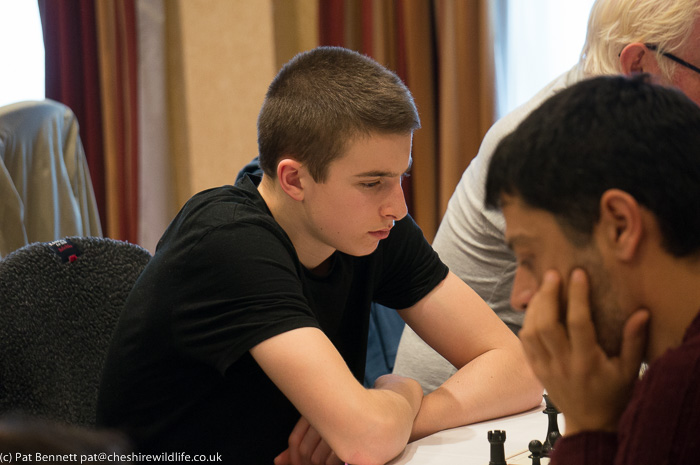 Ben had no luck in his two games, but he put up a good fight despite playing opponents who outgraded him considerably. In fact, he was badly served by the dreaded triangular match fixture table, as, despite playing on Board 4, he was drawn against Jorvik's Board 3 – something I should have spotted.